Yes, I'm very proud of these two dolls.
The one on the left is Knitted Bert. I made him, three different outfits of clothes and a coat, hat, scarf and gloves for my Little C's 1st birthday this summer.
The one on the right is Knitted Roberta. She went, with just the one outfit, to my niece Baby B for her 1st birthday. I've just realised that my newest niece is also a baby B, so I'll have to come up with a way of telling them apart on this blog... how about Baby B for the one year old, and Little B for the very newest one?
Anyway, so far Bert is occasionally man-handled by Little C, but no interest in changing his clothes or anything yet. Apparently Roberta is on top of Baby B's wardrobe for fear of small hands damaging her hair... I do hope they get played with!
I won't post the patterns for them on here as I'm sure they are copyright. The book I have them from is "Knitted Toys" by Jean Greenhowe.
The J
ean Greenhowe website is:
www.jeangreenhowe.com/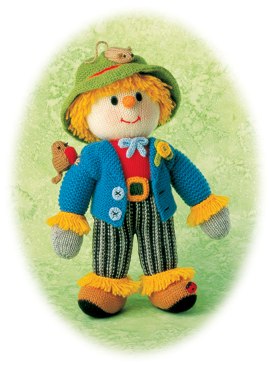 I've also found the book, my copy was a hand-me-down from my sister-in-law, on e-bay (worth a search) and amazon (
http://www.amazon.co.uk/Knitted-Toys-Jean-Greenhowe/dp/0600502864
)
:
I'm still quite a knitting beginner, so not very fast. The two dolls and all the clothes took me about 5 months in total, averaging about an hour of knitting every day.
This book is well worth getting hold of, there are some lovely toy designs inside, though they are aimed a little older than my 1 year old as there are quite a few with bits attached. They would make great novelty gifts for adults some of them, as you can knit a rugby player (could be converted to football, and the strip could be modified for your favourite team), climber, skier - all sorts, just tailor to your chosen adult's hobby!
I'd love to hear other knitted gifts that people have made, particularly for little children. Also, if anybody knows where to get a knitted toy pattern for The Gruffalo I would LOVE it! Please comment below...